Control costs while taking care of your employees. That's the Ready For Life difference.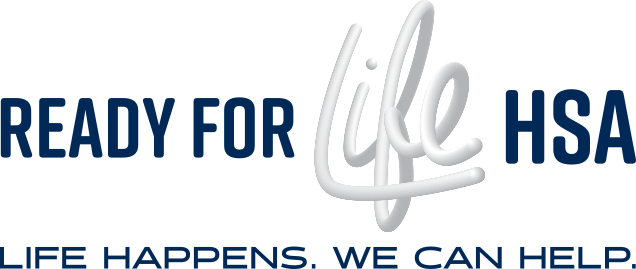 Built-in protection for
life's twists and turns
Life wouldn't be life without unexpected moments. So the Ready For Life HSA for employers is made for the unpredictable. With a built-in payroll advance to cover surprise healthcare costs. And all-the-time peace of mind. Your people aren't just covered — they're confident they can keep expenses under control.
Ready For Life: An HSA with a supercharged advantage
HSAs are great
A Health Savings Account (HSA) is a powerful way for your employees to put aside and invest pre-tax money — it's a bank account that can be used to pay for medical expenses. HSAs are triple tax-advantaged: That means employees can make pre-tax contributions; interest earned is tax-free; and withdrawals for qualifying medical expenses are tax-free. By making regular contributions to their HSA, employees can save for upcoming healthcare expenses and prepare for the future.
A health savings account (HSA) is a powerful pre-tax account that can be used to pay for current and future healthcare expenses. Here are the basics:

+ Contributions to an HSA plan are 100% deductible (up to the legal limit) — just like an IRA.
+ Unlike in an FSA plan, HSA savings roll over year after year.
+ HSA contribution amounts can be changed at any time during the year.
Employees with over $1,000 in their account can invest in a variety of mutual funds and money market accounts.
+ This year the HSA contribution limit is $3,400 for single participants and $6,750 for families.
+ Participants over age 55 can make an extra, catch-up contribution of $1,000.
The Ready For Life HSA plan can cover:

+ Deductibles, copays, and coinsurance
+ Prescription drugs
+ Dental services, including braces, bridges, and cleanings
+ Vision care, including glasses, contacts, and Lasik
+ Psychiatric and mental health services
+ Long-term care services
+ Much more
Until the unexpected happens
Kids fall off monkey bars. Spouses get sports injuries. And sometimes people need surprise surgery. When life happens, healthcare costs can pile up. And if your employees have a high deductible, they could be on the hook for more than they know, leaving them to use credit cards or predatory payday loans. Health Savings Accounts help people put aside money for medical expenses, but there might be a gap between what they've saved and what they owe.
So get Ready For Life
Ready For Life HSA for employers helps to fill this financial gap with an instant, interest-free payroll advance. Employees don't have to ask you for help or worry where the money will come from — it's ready for them right when they need it, delivering an unparalleled sense of relief. Whatever advance amount is needed (up to the limit set by you) is then automatically deducted from their future paychecks in manageable amounts, usually under $50 per pay period. These repayments are also tax-free. It's a great way to take the financial worry out of a high-deductible plan AND show your employees you're looking out for them.
How it works for employees
Your employee has a high-deductible health plan and decides to participate in the Ready For Life HSA. (Smart choice!)

Life happens! Your employee has a medical expense, but not enough money in their HSA to cover it.

No reason to panic! All your employee has to do is swipe their Ready For Life Debit Card.

Ready For Life kicks in with an instant, interest-free payroll advance funded by your company.

Your employee breathes a sigh of relief because the expense is covered without wiping out their bank account or using credit cards. Your employee gets help in their moment of need, without needing to ask for it.
How we make it easy for you
As an employer, you decide how you want to use Ready For Life (advance amount, eligibility, and terms of repayment) and we automate the entire process.

Your employee's Ready For Life Debit Card swipe initiates a payroll advance.

Our HSA administration platform creates an employee paycheck deduction in your payroll system, which makes payback a breeze.

The advance is paid back through small payroll deductions that are manageable for your employee.

Financial anxiety is eased, your employee is grateful, and you bask in the glow of helping your people in a critical moment of need.
Ready For Life puts you in control
The Ready For Life HSA for employers lets you decide how much to advance your employees, who's eligible, the terms of the payback, and what happens if an employee moves on from your company. And our platform makes it all simple to set up and easy to manage.
Pumped up participation

Increase satisfaction and participation in your company's benefit program with an HSA that shows you care.

Lower premiums

Make high-deductible health plans more attractive to your employees, which helps your company save money.

Automatic + seamless

Add value for your employees without adding an administrative burden for yourself.
Standard HSAs don't stack up
Take a look at how Ready For Life compares to a standard HSA and you begin to see all the good things that can happen when you go the extra mile.
| Ready for Life HSA | Standard HSA |
| --- | --- |
Add it up and see that Ready For Life can do things for your employees (and your company!) that no other HSA can.
Why your workers need
Ready For Life
The Ready For Life HSA isn't just nice to have — in this healthcare climate, it's increasingly necessary. Our white paper looks at the rise of high-deductible plans and makes a data-driven case for an HSA that bridges the gap between employee's HSA balance and their deductible.
Get the white paper
Benefits are easier with Clarity
BEST-IN-CLASS SUPPORT

All of our friendly, knowledgeable representatives have more than 5 years of benefits experience on average.

FLEXIBLE INVESTMENTS

Choose an investment strategy that matches your goals, with money market, mutual fund, and index fund options.

MOBILE APP

Clarity Mobile enables you to manage your benefits right on your phone: Check your balance, process claims, and more.

MULTILINGUAL STAFF

Our team can answer questions and provide support in over 80 languages.

ONLINE ENROLLMENT

Have confidence in your choices when you sign up with our simple, helpful enrollment guide.

SELF SERVICE

Get the info you need on your schedule, with 24/7 access to your account.

SMART READY FOR LIFE DEBIT CARD

Pay for healthcare expenses at any location that accepts Mastercard.
Ready to talk about Ready For Life?
You may have questions. We definitely have answers. Let's talk!